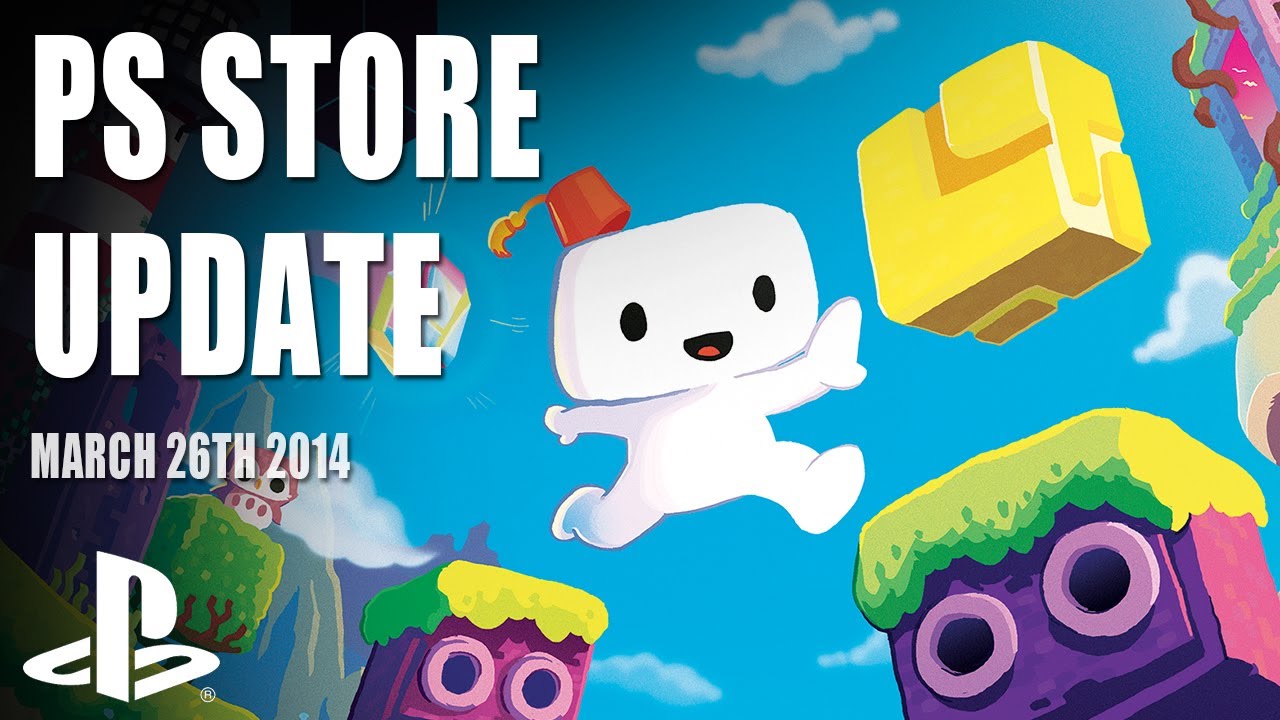 In più, nuovi DLC per Battlefield 4 e Castlevania: Lords of Shadow 2
Forse avrete sentito parlare di questo delizioso e particolarissimo platform: FEZ arriva oggi su PlayStation 4, PlayStation 3 e PS Vita! Il titolo è Cross-Buy quindi vi basterà acquistarlo una volta per averlo su tutte le console. Questa notizia dovrebbe farvi saltare dalla gioia come Gomez.
Inoltre, su PS Vita, arriva Destiny of Spirits, un free-to-play basato sulla localizzazione. Evocate, collezionate e scambiate spiriti magici e salvate il mondo dalle forze malvagie.
Se non ve ne siete accorti Grand Theft Auto V, Red Dead Redemption  e altri titoli si sono aggiunti agli sconti Rockstar da oggi. Insieme a questi grandi giochi, troverete altri sconti su titoli del calibro di Dishonored, Fallout 3 e Dragon Age II. Controllate regolarmente PS Store nel weekend per non perdere altre offerte misteriose.
Nuovi contenuti PlayStation Network
I contenuti possono essere aggiunti o rimossi e le date cambiate – seguite con attenzione l'aggiornamento settimanale dello Store per non perdere gli aggiornamenti più recenti. Le offerte elencate sono approssimative, si basano sull'SRP escluse le Offerte Speciali e vanno considerate solo come guida.
PlayStation Plus
FEZ – 20% di sconto
Real Boxing (Vita) – 50% di sconto


PlayStation 4

FEZ (Cross-Buy PS4/PS3/Vita)
Prezzo: £7.99/€9.99/AUAU$14.45
PEGI: 3


PlayStation 3

CHAOS CODE
Prezzo: £7.99 /€9.99
PEGI: 12




Deception IV: Blood Ties (PS3) (disponibile dal 28 marzo)
Prezzo: £34.99/€39.99/AUAU$54.95
PEGI: 16




FEZ (Cross-Buy PS4/PS3/Vita)
Prezzo: £7.99/€9.99/AUAU$14.45




MXGP – THE OFFICIAL MOTOCROSS VIDEOGAME (PS3) (disponibile dal 28 marzo)
Prezzo: £49.99/€59.99/AUAU$9.95
PEGI: 3




TRINITY: Souls Of Zill O'll
Prezzo: £15.99/€19.99/AUAU$24.95
PEGI: 16


PlayStation Vita

Deception IV: Blood Ties (Vita) (disponibile dal 28 marzo)
Prezzo: £34.99/€39.99/AUAU$54.95
PEGI: 16




Destiny of Spirits
Prezzo: Gratis
PEGI: 7




FEZ (Cross-Buy PS4/PS3/Vita)
Prezzo: £7.99/€9.99/AU$14.45
PEGI: 3




Invizimals: The Alliance
Prezzo: £19.99/€24.99/AU$32.95
PEGI: 7




MXGP – THE OFFICIAL MOTOCROSS VIDEOGAME (Vita) (available from 28th March)
Prezzo: £34.99/€39.99/AU$54.95
PEGI: 3


PS4 DLC
Battlefield 4
Naval Strike (Per Premium)
Air Vehicle Shortcut (£7.99/€9.99/AU$14.45)
Assault Kit Shortcut (£5.49/€6.99/AU$10.35)
Carbines Shortcut (£3.99/€4.99/AU$7.35)
DMR Shortcut (£3.99/€4.99/AU$7.35)
Engineer Kit Shortcut (£5.49/€6.99/AU$10.35)
Grenades Shortcut (£3.99/€4.99/AU$7.35)
Ground & Sea Vehicle Shortcut (£11.99/€14.99/AU$21.95)
Recon Kit Shortcut (£5.49/€6.99/AU$10.35)
Shotguns Shortcut (£3.99/€4.99/AU$7.35)
Soldier Shortcut Bundle (£19.99/€24.99/AU$36.95)
Support Shortcut Kit (£5.49/€6.99/AU$1035)
The Ultimate Shortcut Bundle (£39.99/€49.99/AU$73.95)
Vehicle Shortcut Bundle (£15.99/€19.99/AU$29.95)
Weapon Bundle Kit Shortcut (£11.99/€14.99/AU$21.95)
Call of Duty: Ghosts
EXTRA SLOTS (£1.59/€1.99/AU$2.95)
DUCKY PACK (£1.59/€1.99/AU$2.95)
CIRCUIT PACK (£1.59/€1.99/AU$2.95)
INFERNO PACK (£1.59/€1.99/AU$2.95)
SPACE CATS PACK (£1.59/€1.99/AU$2.95)
LEGEND PACK – CPT Prezzo (£3.19/€3.99/AU$5.85)
ELIAS SPECIAL CHARACTER (£1.59/€1.99/AU$2.95)
HESH SPECIAL CHARACTER (£1.59/€1.99/AU$2.95)
KEEGAN SPECIAL CHARACTER (£1.59/€1.99/AU$2.95)
MERRICK SPECIAL CHARACTER (£1.59/€1.99/AU$2.95)
HESH SPECIAL CHARACTER (£1.59/€1.99/AU$2.95)
KEEGAN SPECIAL CHARACTER (£1.59/€1.99/AU$2.95)
MERRICK SPECIAL CHARACTER (£1.59/€1.99/AU$2.95)
JUST DANCE 2014 (PS4)
Part Of Me – Katy Perry (£2.39/€2.99/AU$4.35)
Funhouse – P!NK (£2.39/€2.99/AU$4.35)
Warframe
Prime Access Accessories Pack (£38.49/€44.99/AU$64.95)
Rhino Prime Pack (£59.99/€69.99/AU$100.95)
PS3 DLC
Battlefield 4
Naval Strike (Per Premium)
Air Vehicle Shortcut (£7.99/€9.99/AU$14.45)
Assault Kit Shortcut (£5.49/€6.99/AU$10.35)
Carbines Shortcut (£3.99/€4.99/AU$7.35)
DMR Shortcut (£3.99/€4.99/AU$7.35)
Engineer Kit Shortcut (£5.49/€6.99/AU$10.35)
Grenades Shortcut (£3.99/€4.99/AU$7.35)
Ground & Sea Vehicle Shortcut (£11.99/€14.99/AU$21.95)
Recon Kit Shortcut (£5.49/€6.99/AU$10.35)
Shotguns Shortcut (£3.99/€4.99/AU$7.35)
Soldier Shortcut Bundle (£19.99/€24.99/AU$36.95)
Support Shortcut Kit (£5.49/€6.99/AU$1035)
The Ultimate Shortcut Bundle (£39.99/€49.99/AU$73.95)
Vehicle Shortcut Bundle (£15.99/€19.99/AU$29.95)
Weapon Bundle Kit Shortcut (£11.99/€14.99/AU$21.95)
Call of Duty: Ghosts
EXTRA SLOTS (£1.59/€1.99/AU$2.95)
DUCKY PACK (£1.59/€1.99/AU$2.95)
CIRCUIT PACK (£1.59/€1.99/AU$2.95)
INFERNO PACK (£1.59/€1.99/AU$2.95)
SPACE CATS PACK (£1.59/€1.99/AU$2.95)
LEGEND PACK – CPT Prezzo (£3.19/€3.99/AU$5.85)
ELIAS SPECIAL CHARACTER (£1.59/€1.99/AU$2.95)
HESH SPECIAL CHARACTER (£1.59/€1.99/AU$2.95)
KEEGAN SPECIAL CHARACTER (£1.59/€1.99/AU$2.95)
MERRICK SPECIAL CHARACTER (£1.59/€1.99/AU$2.95)
HESH SPECIAL CHARACTER (£1.59/€1.99/AU$2.95)
KEEGAN SPECIAL CHARACTER (£1.59/€1.99/AU$2.95)
MERRICK SPECIAL CHARACTER (£1.59/€1.99/AU$2.95)
Bioshock Infinite
Burial At Sea Episode 2 (£11.99/€14.99/AU$21.95)
Castlevania: Lords Of Shadow 2
Revelations (£4.79/€5.99/AU$8.85)
Armored Dracula Costume (£0.59/€0.75/AU$1.05)
Relic Rune Pack (£0.59/€0.75/AU$1.05)
Dark Dracula Costume (£0.59/€0.75/AU$1.05)
DEFIANCE
Gunslinger Trials (£5.99/€7.49/AU$11.05)
DRAGON BALL Z: BATTLE OF Z
Super Vegito (£2.39/€2.99/AU$4.35)
Super Saiyan Bardock (£2.39/€2.99/AU$4.35)
DEAD OR ALIVE 5 ULTIMATE
Costume Catalog 11 (Free)
Marie Rose (character) (£4.79/€5.99/AU$8.85)
Marie Cheer (£1.59/€1.99/AU$2.95)
Marie Gym (£1.59/€1.99/AU$2.95)
Marie Nurse (£1.59/€1.99/AU$2.95)
Marie School Costume (£1.59/€1.99/AU$2.95)
Santa's Helper Marie (£1.59/€1.99/AU$2.95)
Marie Additional Character + Debut Set (£9.99/€12.99/AU$18.45)
Marie Rose Debut Costume Set (£6.49/€7.99/AU$11.75)
JUST DANCE 2014 (PS3)
Part Of Me – Katy Perry (£2.39/€2.99/AU$4.35)
Funhouse – P!NK (£2.39/€2.99/AU$4.35)
LittleBigPlanet 2 (Cross Buy)
BEYOND: Two Souls™ Costume Pack (£4.79/€5.99/AU$8.85)
PES 2014 – Pro Evolution Soccer
World Challenge (£7.99/€9.99/AU$14.45)
ROCKSMITH 2
Matchbox Twenty – 3am (£2.39/€2.99/AU$4.35)
Matchbox Twenty – How Far We've Come (£2.39/€2.99/AU$4.35)
Matchbox Twenty – Push (£2.39/€2.99/AU$4.35)
Matchbox Twenty – She's So Mean (£2.39/€2.99/AU$4.35)
Matchbox Twenty – Unwell (£2.39/€2.99/AU$4.35)
Matchbox Twenty Song Pack (£9.69/€11.99/AU$17.95)
PSVita DLC
Destiny of Spirits
35 ORBS (£1.99/€2.49/AU$3.65)
50 ORBS (£2.79/€3.49/AU$5.15)
DRAGON BALL Z: BATTLE OF Z
JAPANESE VOICE DATA (Free)
Super Vegito (£2.39/€2.99/AU$4.35)
Super Saiyan Bardock (£2.39/€2.99/AU$4.35)
LittleBigPlanet Vita (Cross Buy)
BEYOND: Two Souls™ Costume Pack (£4.79/€5.99/AU$8.85)
Toukiden
Additional Missions 6 (£1.59/€1.99/AU$2.95)
Additional Missions 7 (£1.59/€1.99/AU$2.95)
Raiments: Noble (Gratis)
Soul Sacrifice
TOUKIDEN Collaboration Costume (Gratis)
Tagli di prezzo
Curve Mega Studios Bundle (PS3/Vita Cross-Buy) – Prezzo intero £19.99/€24.99/AU$36.95, Prezzo scontato £11.99/€14.99/AU$21.95
Jonah Lomu Rugby Challenge (PS3) – Prezzo intero £39.99/€49.99/AU$69.95, Prezzo scontato £19.99/€29.99/AU$39.95
Red Dead Redemption (PS3) – dal 26/3 al 2/4 – Prezzo intero £23.99/€29.99/AU$43.95, Prezzo scontato £7.99/€9.99/AU$14.45
Rugby League Live 2 (PS3) – Prezzo intero £39.99/€49.99/AU$69.95, Prezzo scontato £19.99/€29.99/AU$39.95


Offerta della settimana
GTA V – Prezzo intero £49.99/€69.99/AU$109.95, Prezzo scontato £34.99/€44.99/AU$62.95


Offerta Indie della Settimana
How to Survive (PS3) – Prezzo intero £11.99/€14.99/AU$21.95, Prezzo scontato £4.79/€5.99/AU$8.85
King Oddball (Vita) – Prezzo intero £3.69/€4.49/AU$6.65, Prezzo scontato £1.59/€1.99/AU$2.95