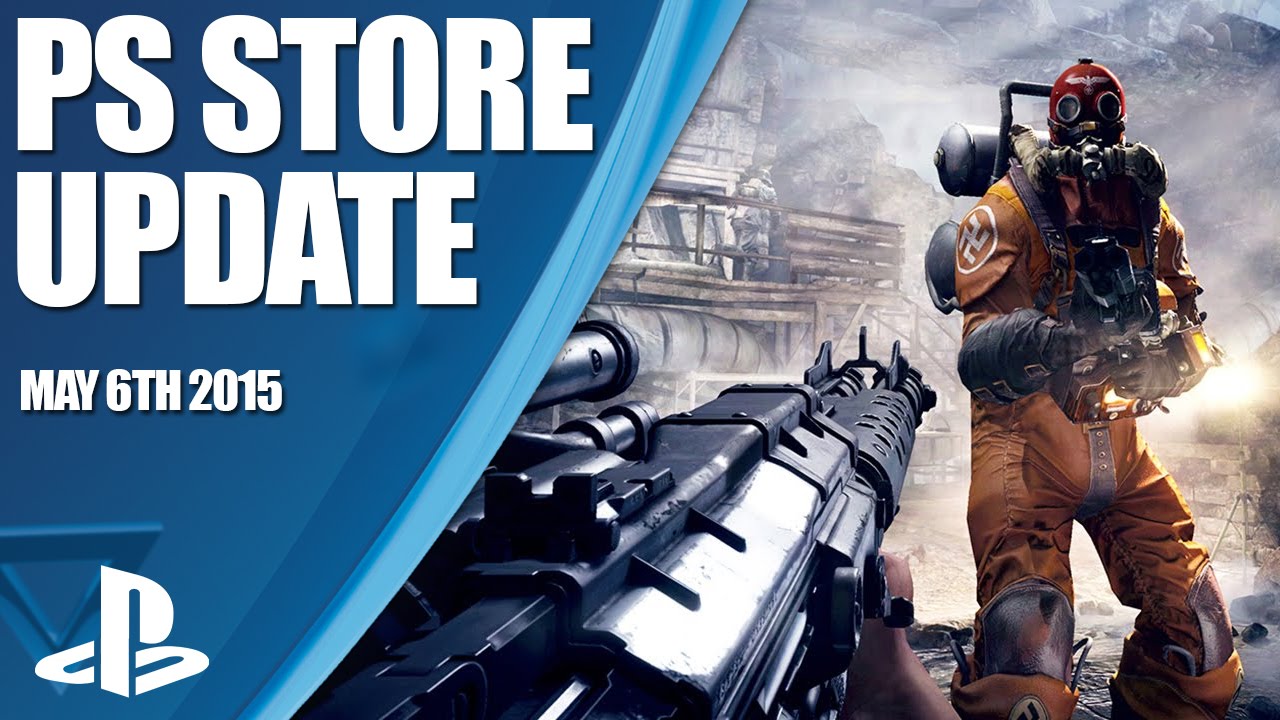 In più, Omega Quintet, Cosmophony e altri sconti
Il perfetto suono del motore. I contorni morbidi del design. Il glorioso odore dell'aria di auto nuova. Ok, probabilmente non potrete odorare nulla in Project CARS ma le sue auto splendide vi faranno provare molte emozioni. Gli appassionati di auto potranno mettere a punto la loro bestia preferita e portarla sul tracciato per sfoggiare la loro abilità.
In uscita questa settimana, Wolfenstein: The Old Blood il prequel standalone dell'acclamato action-adventure shooter in prima persona Wolfenstein: The New Order. L'avventura si dipana su otto capitoli, due storie interconnesse ed è caratterizzata dai punti di forza di MachineGames: azione al fulmicotone, storia immersiva e intensi combattimenti in prima persona.
Non dimenticate di scaricare i giochi di maggio di PS Plus e, come al solito, non perdete i nuovi sconti, inclusi Far Cry 4 come offerta della settimana e una succosa lista di titoli per PS3 e PS Vita a meno di €10. Collegatevi su store.playstation.com e approfittatene.
PlayStation Plus
Grim Fandango – 30% di sconto fino all'11 maggio
Guacamelee! STCE – 'Frenemies' Character Pack – 40% di sconto fino al 3 giugno
PlayStation 4

ArcaniA – The Complete Tale
Dall'8 maggio
Prezzo:£24.99/€29.99/$39.95

Cosmophony
Prezzo:£3.99/€4.99/$7.55

Omega Quintet
Prezzo:£44.99/€59.99/$84.95

Project CARS
Out 7 May
Prezzo:£44.99/€69.99/$99.95

Wolfenstein: The Old Blood
Prezzo:£14.99/€19.99/$39.95

Middle-earth: Shadow of Mordor-Game of the Year Edition
Dall'8 maggio
Prezzo:£54.99/€59.99/$84.95
PlayStation 3

Star Wars Jedi Starfighter (PS2)
Prezzo:£7.99/€9.99/$14.95

Star Wars Starfighter (PS2)
Prezzo:£7.99/€9.99/$14.95

Chariot
Prezzo:£11.99/€14.99/$22.95

Cosmophony
Prezzo:£3.99/€4.99/$7.55
PlayStation Vita

Cosmophony
Prezzo:£3.99/€4.99/$7.55
PS4 DLC
Dragon Ball Xenoverse
Movie Costumes Pack (Gratis)
Dynasty Warriors 8 Empires
Special Edit Parts (£2.49/€2.99/$4.55)
Evolve
Assault Monarch Skin Pack (£3.99/€4.99/$7.55)

Markov Monarch Skins (£1.69/€1.99/$2.95)

Hyde Monarch Skins (£1.69/€1.99/$2.95)
Parnell Monarch Skins (£1.69/€1.99/$2.95)
Guacamelee! STCE – Out 7th May
'Frenemies' Character Pack (£2.99/€3.59/$5.45)
Mortal Kombat X
Jason Voorhees (£3.99/€4.99/$7.55)
Horror Pack (£3.29/€3.99/$5.95)
Omega Quintet
Angel Wing (£0.79/€0.99/$1.45)
Arcanium Power Pack (£0.79/€0.99/$1.45)
Arcanium Power Pack 2 (£0.79/€0.99/$1.45)
Arcanium Power Pack 3 (£0.79/€0.99/$1.45)
Avenger's Spear (£0.79/€0.99/$1.45)
Character Appreciation (£1.69/€1.99/$2.95)
Chocolate Mint Lover (£0.79/€0.99/$1.45)
Coin Power Pack (£0.79/€0.99/$1.45)
Coin Power Pack 2 (£0.79/€0.99/$1.45)
Complete MAD Encyclopedia (Gratis)
EP Power Pack (£0.79/€0.99/$1.45)
EP Power Pack 2 (£0.79/€0.99/$1.45)
EP Power Pack 3 (£0.79/€0.99/$1.45)
First Verse Maiden War (Gratis)
Flying Fists (£0.79/€0.99/$1.45)
Fourth Verse Maiden War (Gratis)
Full Gallery Unlocked (£1.69/€1.99/$2.95)
Happy Geisha (£0.79/€0.99/$1.45)
Lights, Camera, Action! (£0.79/€0.99/$1.45)
Marching Idol Gear (£0.79/€0.99/$1.45)
Mega Rifle (£0.79/€0.99/$1.45)
New Attachment Set (£0.79/€0.99/$1.45)
New Protector Set (£0.79/€0.99/$1.45)
Plushy Cat Paw Hammer (£0.79/€0.99/$1.45)
Rare Armor Set (£0.79/€0.99/$1.45)
Robotic Idol Gear (£0.79/€0.99/$1.45)
Second Verse Maiden War (Gratis)
Third Verse Maiden War (Gratis)
Verse Maiden Beginner Pack 1 (Gratis)
Verse Maiden Beginner Pack 2 (Gratis)
Verse Maiden Beginner Pack 3 (Gratis)
Wealth Pack (£0.79/€0.99/$1.45)
Wealth Pack 2 (£0.79/€0.99/$1.45)
Wealth Pack 3 (£1.69/€1.99/$2.95)
Project CARS
Liveries Pack 1 (Gratis)
Project CARS – Free Car 1 (Lykan Hypersport) (Gratis)
Rocksmith
Alter Bridge Song Pack (£7.99/€9.99/$14.95)
Bob Dylan Song Pack (£6.49/€7.99/$11.95)
A Day To Remember Song Pack (£9.49/€11.99/$17.95)
Aerosmith Song Pack (£9.49/€11.99/$17.95)
Ain't No Love In The Heart of the City – Bobby 'Blue' Bland (£2.49/€2.99/$4.55)
Be Careful With a Fool – Johnny Winter (£2.49/€2.99/$4.55)
Billy Talent Song Pack (£9.49/€11.99/$17.95)
Blues Song Pack (£9.49/€11.99/$17.95)
Boom Boom – John Lee Hooker (£2.49/€2.99/$4.55)
Duran Duran Song Pack (£6.49/€7.99/$11.95)
Foo Fighters Song Pack (£9.49/€11.99/$17.95)
'From Noon Till Dawn' – STRAIGHTENER (£2.49/€2.99/$4.55)
Godsmack Song Pack (£9.49/€11.99/$17.95)
Hideaway – Freddie King (£2.49/€2.99/$4.55)
I Keep Forgettin (Every Time You?re Near) – Michael McDonald (£2.49/€2.99/$4.55)
Incubus Song Pack (£6.49/€7.99/$11.95)
Judas Priest Song Pack (£6.49/€7.99/$11.95)
Maroon 5 Song Pack (£6.49/€7.99/$11.95)
Mastodon Song Pack (£6.49/€7.99/$11.95)
Matchbox Twenty Song Pack (£9.49/€11.99/$17.95)
Nickelback Song Pack (£6.49/€7.99/$11.95)
No Doubt Song Pack (£6.49/€7.99/$11.95)
Pantera Song Pack (£6.49/€7.99/$11.95)
Parliament – Give Up The Funk (Tear The Roof Off The Sucker) (£2.49/€2.99/$4.55)
Rocksmith The Cure – Love Song (£2.49/€2.99/$4.55)
Rush Song Pack (£9.49/€11.99/$17.95)
Rush Song Pack (£9.49/€11.99/$17.95)
Santana Song Pack (£6.49/€7.99/$11.95)
Shinedown Song Pack (£9.49/€11.99/$17.95)
Spoonful – Howlin' Wolf (£2.49/€2.99/$4.55)
Surf Rock Song Pack (£6.49/€7.99/$11.95)
The Clash Song Pack (£6.49/€7.99/$11.95)
The Strokes Song Pack (£6.49/€7.99/$11.95)
'Wrong Way' by Sublime (£2.49/€2.99/$4.55)
Toukiden
Armor Sanada and Koshosho Set (£1.69/€1.99/$2.95)
PS3 DLC
Dragon Ball Xenoverse Movie Costumes Pack (Gratis)
Rocksmith
Blues Song Pack (£9.49/€11.99/$17.95)
Spoonful – Howlin' Wolf (£2.49/€2.99/$4.55)
Boom Boom – John Lee Hooker (£2.49/€2.99/$4.55)
Hideaway – Freddie King (£2.49/€2.99/$4.55)
Ain't No Love In The Heart of the City – Bobby 'Blue' Bland (£2.49/€2.99/$4.55)
Be Careful With a Fool – Johnny Winter (£2.49/€2.99/$4.55)