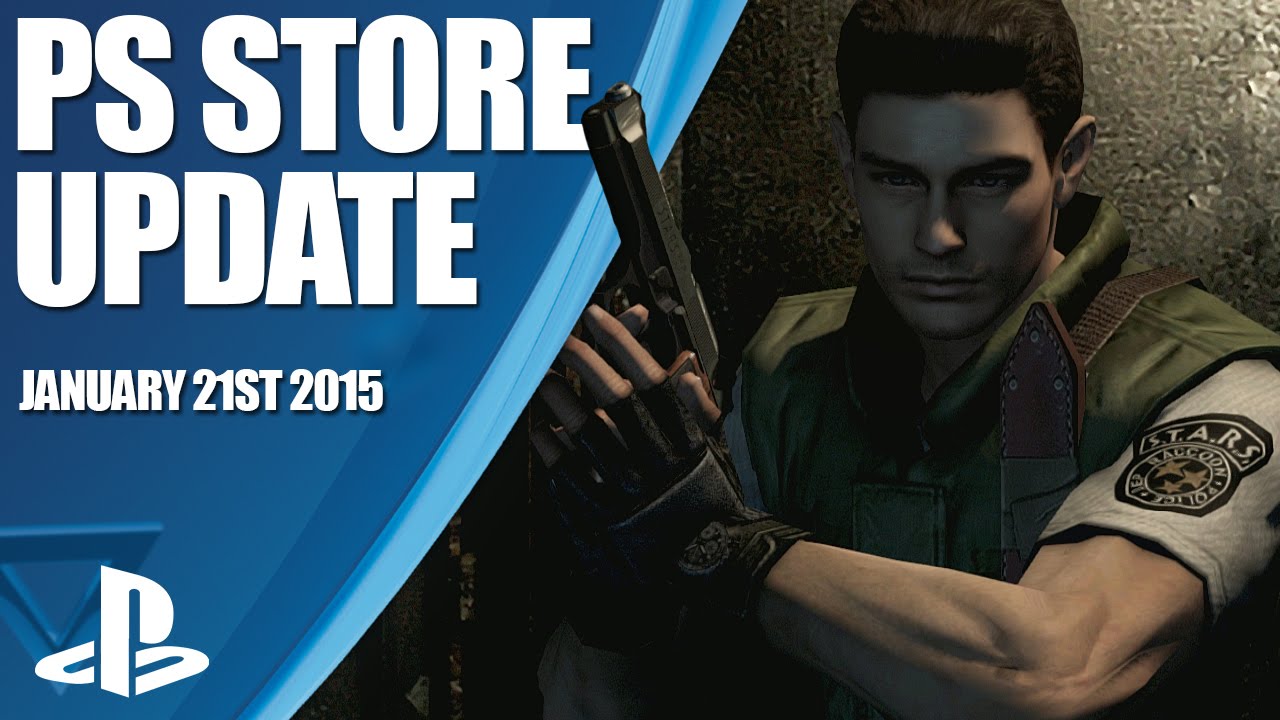 In più, Ironclad Tactics e una nuova serie di sconti digitali
È arrivato il capolavoro di Capcom rimasterizzato Resident Evil. Grafica rivista, supporto opzionale per il widescreen, nuovi controlli (anche questi opzionali) che vi permetteranno di vivere RE in maniera differente o tradizionale. La scelta è tutta vostra.
Citizens of Earth è il nuovo RPG che vi chiede di compiere l'impresa di salvare il mondo nei panni del Vice Presidente della Terra. Andate in giro per la città e reclutate cittadini con abilità uniche per completare la vostra missione.
Troverete altri grandi titoli questa settimana, tra cui Saints Row IV Re-Elected su PS4, il gioco di carte tattico Ironclad Tactics, i contenuti aggiuntivi di Hatsune Miku e altro.
Ricordate di dare un'occhiata alle nuove offerte della settimana che comprendono i titoli 2K Games, una selezione di ottimi giochi indie e The Crew tra le offerte della settimana.
PlayStation Plus

Citizens of Earth – 10% di sconto fino al 28 gennaio

Ironclad – 20% di sconto fino al 28 gennaio
PlayStation 4

Citizens of Earth
Prezzo:£9.49/€11.99/$17.95

Ironclad Tactics
Prezzo:£11.99/€14.99/$22.95

Resident Evil (Cross-Buy until 3rd February)
Prezzo:£15.99/€19.99/$29.95

Saints Row IV: Re-Elected (out 23rd January)
Prezzo:£24.99/€29.99/$39.95

Saints Row: Gat out of Hell
(out 23rd January)
Prezzo:£15.99/€19.99/$24.95

Saints RowIV: Re-Elected & Gat out of Hell (out 23rd January)
Not available in Australia
Prezzo:£39.99/€49.99
PlayStation 3

Best of Arcade Games
Prezzo: Gratis
Final Fantasy XIV: A Realm Reborn Free Trial
Prezzo:Gratis

Monopoly Deal
Prezzo:£3.99/€4.99/$7.55

Resident Evil (Cross-Buy until Feb 3rd)
Prezzo:£12.99/€15.99/$23.95

Saints Row: Gat out of Hell (out 23rd January)
Prezzo:£15.99/€19.99/$24.95

Star Wars+: Race Revenge (PS2)
Not available in Australia, Belgium, Denmark, Finland, France, Netherlands, New Zealand, Norway, Poland, Portugal, Russia, Sweden, Turkey, Ukraine
Prezzo:£7.99/€9.99
Wonderbook Double Pack
Prezzo:£11.99/€14.99/$22.95
PlayStation Vita

Citizens of Earth
Prezzo:£9.49/€11.99/$17.95

Best of Arcade Games Deluxe Edition
Prezzo:£24.99/€29.99/$39.95
PlayStation Mobile
Appli Archives IDAC Escape Game Pack 2
£2.39/€2.99/$4.95
Mega Tap Tap
£1.19/€1.49/$2.45
Hero or Healer?
£2.59/€3.29/$5.45
PS4 DLC
Assassin's Creed Unity
Secrets of the Revolution (£5.79/€6.99/$10.45)
Call of Duty: Advanced Warfare
Call of Duty : Advanced Warfare – JPN Exoskeleton Pack (£1.69/€1.99/$2.95)
LEGO Batman 3
Beyond Gotham Rainbow Character Pack (Gratis)
Rabbids Invasion
RABBIDS INVASION – PACK 3 SEASON ONE (£3.29/€3.99/5.95)
Middle-earth Shadow of Mordor
Flesh Burners Warband (£1.69/€1.99/$2.95)
Captain of the Watch Character Skin (£0.79/€0.99/$1.45)
The Crew
Extreme Car Pack (£5.79/€6.99/$10.45)
Street Edition Pack (£5.79/€6.99/$10.45)
Worms Battlegrounds
Alien Invasion (£3.99/€4.99/$7.55)
PS3 DLC
Call of Duty: Advanced Warfare
Call of Duty : Advanced Warfare – JPN Exoskeleton Pack (£1.69/€1.99/$2.95)
Hatsune Miku: Project Diva F 2nd
Extra Characters Extended Pack (£3.99/€4.99/$7.55)
Ai Kotoba (£1.99/€2.49/$3.75)
Sekiranun Graffiti (£1.99/€2.49/$3.75)
Gothic Purple Costume Module (£1.19/€1.49/$2.25)
School Club Girl Costume Module (£1.19/€1.49/$2.25)
Nostalgia Costume Module (£1.19/€1.49/$2.25)
Shiny Costume Module (£1.19/€1.49/$2.25)
Type 2020 Costume Module (£1.19/€1.49/$2.25)
M.S.J Costume Module (£1.19/€1.49/$2.25)
Summer Memories (Green) UI Skin (Gratis)
Miku & Luka in a Box UI Skin (Gratis)
Miku (Black Ivy) UI Skin (Gratis)
General (Metallic) UI Skin (Gratis)
Meiko (Flower) UI Skin (Gratis)
LEGO Batman 3
Beyond Gotham Rainbow Character Pack (Gratis)
Middle-earth Shadow of Mordor
Flesh Burners Warband (£1.69/€1.99/$2.95)
Captain of the Watch Character Skin (£0.79/€0.99/$1.45)
Orc Slayer Rune (£0.79/€0.99/$1.45)
Pinball Arcade
Pinball Arcade: Season Four Pass (£24.99/€29.99/$44.95)
Pinball Arcade: Season Four Pro Pass (£32.99/€39.99/$59.95)
Pinball Arcade: Season Four Pro Upgrade (£7.99/€9.99/$14.95)
Pinball Arcade: Phantom of the Opera? Pinball Table (£3.99/€4.99/$7.55)
Pinball Arcade: Phantom of the Opera? Pro Table Pack (£6.49/€7.99/$11.95)
Pinball Arcade: Phantom of the Opera? Pro Upgrade (£3.29/€3.99/$5.95)
PS Vita DLC
Best of Arcade Games
Best of Arcade Games – Air Hockey (£7.99/€9.99/$14.95)
Best of Arcade Games – Brick Breaker (£7.99/€9.99/$14.95)
Best of Arcade Games – Bubble Buster (£7.99/€9.99/$14.95)
Best of Arcade Games – Tetraminos (£7.99/€9.99/$14.95)
Hatsune Miku: Project Diva F 2nd
Extra Characters Extended Pack (£3.99/€4.99/$7.55)
Ai Kotoba (£1.99/€2.49/$3.75)
Sekiranun Graffiti (£1.99/€2.49/$3.75)
Gothic Purple Costume Module (£1.19/€1.49/$2.25)
School Club Girl Costume Module (£1.19/€1.49/$2.25)
Nostalgia Costume Module (£1.19/€1.49/$2.25)
Shiny Costume Module (£1.19/€1.49/$2.25)
Type 2020 Costume Module (£1.19/€1.49/$2.25)
M.S.J Costume Module (£1.19/€1.49/$2.25)
Summer Memories (Green) UI Skin (Gratis)
Miku & Luka in a Box UI Skin (Gratis)
Miku (Black Ivy) UI Skin (Gratis)
General (Metallic) UI Skin (Gratis)
Meiko (Flower) UI Skin (Gratis)
Cali di Prezzo
The Crew – Prezzo intero £54.99/€69.99/$99.95, Prezzo scontato £29.99/€49.99/$69.95
The Crew Gold Edition – Prezzo intero £69.99/€94.99/$129.95, Prezzo scontato £44.99/€64.99/$92.95
Platinum Crew Credit Pack – Prezzo intero £39.99/€49.99/$75.95, Prezzo scontato £32.99/€39.99/$59.95