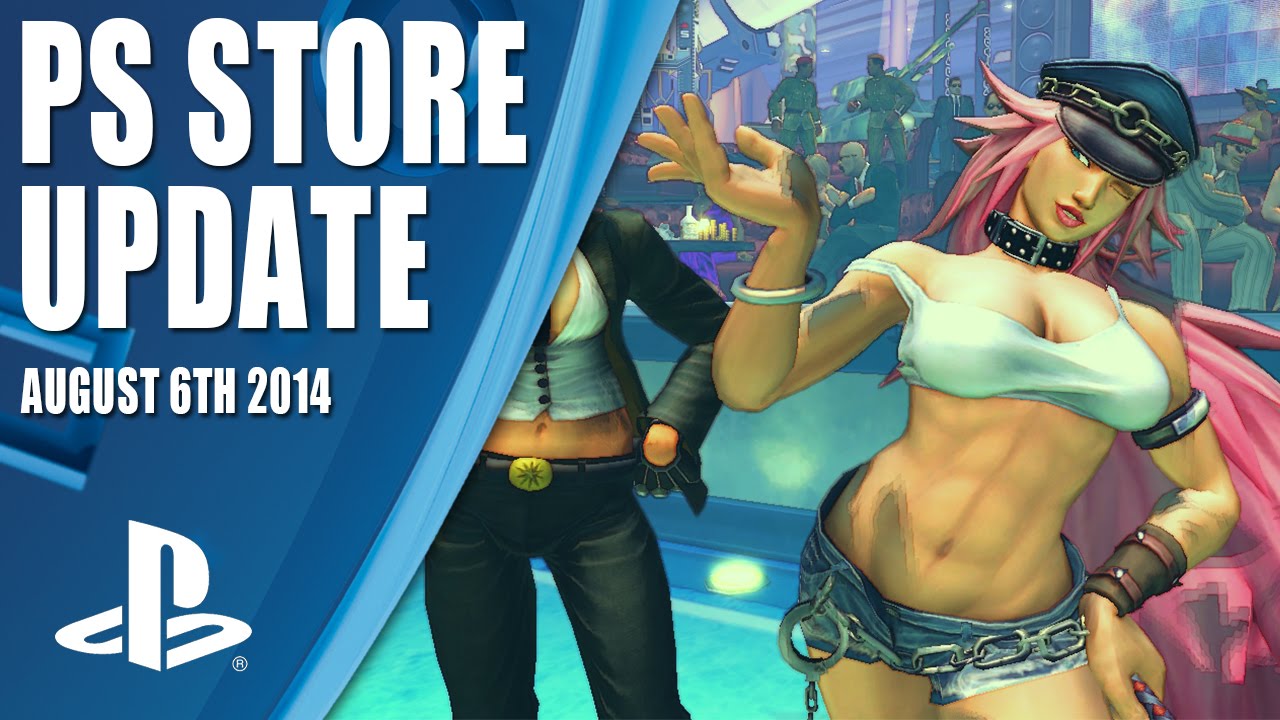 In più, Table Top Racing, The Swapper, Ultra Street Fighter IV
Killzone Shadow Fall Intercept è la nuova espansione stand-alone per lo shooter di Guerrilla Games per PS4. Affrontate le ondate di attacchi Helghast con un massimo di tre amici vestendo i panni dell'Intelligence Squad Alpha – un team di specialisti in ambito di intercettazioni militari in grado di cambiare il corso della guerra.
Su PS Vita Metrico ci mostra il suo interessante punto di vista sul genere platform, chiedendoci di risolvere puzzle utilizzando infografiche e visualizzazione dati. Su PS4 arriva Road Not Taken un'affascinante avventura puzzle che promette ore e ore di gameplay. Entrambi i titoli sono disponibili senza costo aggiuntivo per i membri PS Plus.
Girando pagina, troverete il divertimento caotico di Table Top Racing, azione sci-fi in The Swapper, entrambi con sconto PS Plus al lancio. Infine, abbiamo aggiunto un mucchio di titoli PS4 nelle Offerte Estive del PlayStation Store quindi approfittatene!
PlayStation Plus
Aggiornamento di Agosto
Road Not Taken (PS4)
FEZ (PS4/PS3/PS Vita)
Crysis 3 (PS3)
Proteus (PS3/PS Vita)
Metrico (PS Vita)
LEGO Harry Potter Years 5-7 (PS Vita)
Sconti PS Plus
Table Top Racing (PS Vita) – 20% di sconto fino al 13 Agosto
The Swapper (Cross-Buy/PS Vita/PS3/PS4) – 10% fino al 20 Agosto
PlayStation 4

Killzone Shadow Fall Intercept Standalone Edition
£15.99/€19.99/AU$29.95

Road Not Taken
£11.99/€14.99/AU$22.95

The Swapper (Bundle/Vita/PS3/PS4)
£11.59/€14.99/AU$22.95
PlayStation 3

Epic Adventures Bundle
£28.99/€34.99/AU$52.95

The Swapper (Vita/PS3/PS4)
£11.59/€14.99/AU$22.95

Ultra Street Fighter IV (disponibile dall'8 agosto)
£19.99/€29.99/AU$39.95
PS Vita

The Swapper (Bundle/Vita/PS3/PS4)
£11.59/€14.99/AU$22.95

Table Top Racing
£4.99/€5.99/AU$8.95
PlayStation Mobile
On Call (£2.39/€2.99/AU$4.95)
Flappig 3D (£1.99/€2.49/AU$4.25)
La Charte: Protect the Whale (£0.40/€0.49/AU$0.90)
Picbox (Gratis)
Behind You (£2.79/€3.49/AU$5.95)
PS4 DLC
DC Universe Online
Halls of Power Part I (11) (£7.99/€9.99/AU$14.95)
The Last of Us
Gestures Bundle (£1.99/€2.49/AU$3.75) (Cross-Buy/PS3/PS4)
Grit and Gear Bundle (£5.79/€6.99/AU$10.45) (Cross-Buy/PS3/PS4)
PS3 DLC
DC Universe Online
Halls of Power Part I (11) (£7.99/€9.99/AU$14.95)
Everybody's Golf (Cross-Buy/Vita/PS3)
Kuro Character and Costume Set (£0.79/€0.99/AU$1.45)
Toro Character and Costume Set (£0.79/€0.99/AU$1.45)
Toro Character (£0.59/€0.75/AU$1.15)
Toro Costume (£0.39/€0.49/AU$0.75)
Kuro Character (£0.59/€0.75/AU$1.15)
Kuro Costume (£0.39/€0.49/AU$0.75)
Beginner's Club Level 6 (£0.59/€0.75/AU$1.15)
Big Air Club Level 6 (£0.59/€0.75/AU$1.15)
Pinhole Club Level 6 (£0.59/€0.75/AU$1.15)
Turbo Spin Club Level 6 (£0.59/€0.75/AU$1.15)
Infinity Club Level 6 (£0.59/€0.75/AU$1.15)
Sand Viper Club Level 6 (£0.59/€0.75/AU$1.15)
Grass Cutter Club Level 6 (£0.59/€0.75/AU$1.15)
Big Magnum Club Level 6 (£0.59/€0.75/AU$1.15)
Beginner's Ball Level 6 (£0.39/€0.49/AU$0.75)
Big Air Ball Level 6 (£0.39/€0.49/AU$0.75)
Turbo Spin Ball Level 6 (£0.39/€0.49/AU$0.75)
Infinity Ball Level 6 (£0.39/€0.49/AU$0.75)
Straight Ball Level 6 (£0.39/€0.49/AU$0.75)
Pinhole Ball Level 6 (£0.39/€0.49/AU$0.75)
GRID Autosport
Coupe Style Pack (£2.49/€2.99/AU$4.55)
Black Edition Pack (£3.99/€4.99/AU$7.55)
The Last of Us
Gestures Bundle (£1.99/€2.49/AU$3.75) (Cross-Buy/PS3/PS4)
Grit and Gear Bundle (£5.79/€6.99/AU$10.45) (Cross-Buy/PS3/PS4)
Grounded Bundle (DLC 3) (£7.99/€9.99/AU$14.95)
LittleBigPlanet 2/LittleBigPlanet Karting (Cross-Buy/Vita/PS3)
Frozen Costume Pack (£4.99/€5.49/AU$8.95)
Disney's Frozen – Anna Costume (£1.69/€1.99/AU$2.95)
Disney's Frozen – Elsa Costume (£1.69/€1.99/AU$2.95)
Disney's Frozen – Kristoff Costume (£1.69/€1.99/AU$2.95)
Disney's Frozen – Sven Costume (£1.69/€1.99/AU$2.95)
One Piece Unlimited World Red (Cross-Buy Vita/PS3)
Zoro Casual Pack (£2.49/€2.99/AU$4.55)
Dark Justice pack (£2.49/€2.99/AU$4.55)
Rocksmith 2014
Biffy Clyro Song Pack (£9.49/€11.99/AU$17.95)
Biffy Clyro (£2.49/€2.99/AU$4.55)
Bubbles – Biffy Clyro (£2.49/€2.99/AU$4.55)
Many of Horror – Biffy Clyro (£2.49/€2.99/AU$4.55)
Mountains – Biffy Clyro (£2.49/€2.99/AU$4.55)
Stingin' Belle – Biffy Clyro (£2.49/€2.99/AU$4.55)
PS Vita DLC
Everybody's Golf (Cross-Buy/Vita/PS3)
Kuro Character and Costume Set (£0.79/€0.99/AU$1.45)
Toro Character and Costume Set (£0.79/€0.99/AU$1.45)
Toro Character (£0.59/€0.75/AU$1.15)
Toro Costume (£0.39/€0.49/AU$0.75)
Kuro Character (£0.59/€0.75/AU$1.15)
Kuro Costume (£0.39/€0.49/AU$0.75)
Beginner's Club Level 6 (£0.59/€0.75/AU$1.15)
Big Air Club Level 6 (£0.59/€0.75/AU$1.15)
Pinhole Club Level 6 (£0.59/€0.75/AU$1.15)
Turbo Spin Club Level 6 (£0.59/€0.75/AU$1.15)
Infinity Club Level 6 (£0.59/€0.75/AU$1.15)
Sand Viper Club Level 6 (£0.59/€0.75/AU$1.15)
Grass Cutter Club Level 6 (£0.59/€0.75/AU$1.15)
Big Magnum Club Level 6 (£0.59/€0.75/AU$1.15)
Beginner's Ball Level 6 (£0.39/€0.49/AU$0.75)
Big Air Ball Level 6 (£0.39/€0.49/AU$0.75)
Turbo Spin Ball Level 6 (£0.39/€0.49/AU$0.75)
Infinity Ball Level 6 (£0.39/€0.49/AU$0.75)
Straight Ball Level 6 (£0.39/€0.49/AU$0.75)
Pinhole Ball Level 6 (£0.39/€0.49/AU$0.75)
LittleBigPlanet PS Vita (Cross-Buy/Vita/PS3)
Frozen Costume Pack (£4.99/€5.49/AU$8.95)
Disney's Frozen – Anna Costume (£1.69/€1.99/AU$2.95)
Disney's Frozen – Elsa Costume (£1.69/€1.99/AU$2.95)
Disney's Frozen – Kristoff Costume (£1.69/€1.99/AU$2.95)
Disney's Frozen – Sven Costume (£1.69/€1.99/AU$2.95)
One Piece Unlimited World Red (Cross-Buy Vita/PS3)
Zoro Casual Pack (£2.49/€2.99/AU$4.55)
Dark Justice pack (£2.49/€2.99/AU$4.55)
Not available in India/South Africa
Table Top Racing
125,000 Coins! (£0.99/€1.19/AU$1.85)
250,000 Coins! (£1.49/€1.75/AU$2.65)
500,000 Coins! (£2.49/€2.99/AU$4.55)
1,000,000 Coins! (£2.89/€3.49/AU$5.25)